Our Trip
Here is a quick overview. We spent two weeks in Fiji in August 2003.
First Landing Resort, Lautoka, Orchid Garden, Vuda Marina, Koroyanitu National Heritage Park
On Board Rhapsodie - Scurfing, A Sand Cay, Beachcomber Island, Treasure Island, Musket Cove, Malololailai
Matei Point, Matei, Lavena Coastal Walk, The Bus Ride From Lavena To Matei, The West Side
Raintree Lodge, Town and About
Arriving, Nawanawa Estate (Brochure P1, P2), Daliconi, Lomaloma, Bay of Islands, Leaving

| | |
| --- | --- |
| | Sigatoka |

Sigatoka Town, Valley, Natoro Village, Tavuni Hill Fort

| | |
| --- | --- |
| | Coming Home |
Map
Fiji is between Hawaii and Australia. The 180 degree meridian passes through Fiji so it's the opposite side of the world from Greenwich (London, UK). Suva, the capital, is about 18 degrees south of the equator, The sea keeps the Fiji islands cooler than you might expect, given the latitude.
Below is our route map. We flew to Nadi, then took a boat to the Mamanucas and flew from Malololailai to Nadi. We then flew to Taveuni via Savusavu, then back to Suva via Savusavu. Then from Suva to Vanua Balavu and back. Underlying map, courtesy Fijian government.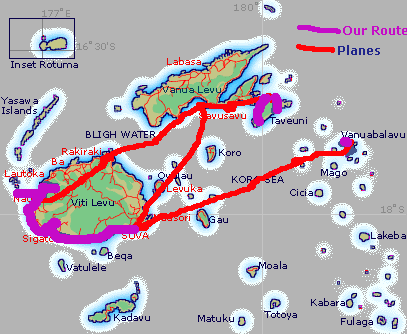 \
References
Transportation
International Flights
| | |
| --- | --- |
| | Air Pacific is Fiji's international airline. It leases 747s from Singapore Airlines and provides excellent service (code-shared with American and Quantas) from Los Angeles (LAX) to Nadi (pronounced Nandi). |
Internal Flights
Consider getting an Air Fiji Airpass for your internal Fijian flights. You have to buy it outside Fiji. You can get one from the Fiji Travel Alliance in the US
(Phone: + 1 877 247 3454, email: info AT fiji-travelalliance.com).
Sunflower Airlines is another popular internal airline.
If you need a charter flight that can land on the sea or at an airport consider a seaplane from Pacific Island Seaplanes.
Taxis
| | |
| --- | --- |
| | In popular tourist areas taxis abound and it's usually cheaper to rent a car with a driver than to rent a car. Taxi drivers seem quite happy to take you to sights and wait, particularly if there is a gift shop commission for them. Drivers carry fare sheets with them - make sure you agree on the price when you start out. |
Boats
| | |
| --- | --- |
| | There are no bareboat charters in Fiji |
| | For a cruise of the Yasawas see Blue Lagoon Cruises or Captain Cook Cruises. We did not take these cruises, but met people who did and enjoyed them. |
| | There are several catamarans from Denarau Marina or Lautoka to the Mamanucas and Yasawas. To get between budget resorts in the Yasawas in a fast catamaran consider getting a 7 od 21 day Bula Pass for the Yasawa Flyer. |